04.18.15
I'm writing more about gardening today, so if plants aren't your thing, you might not enjoy this post.  But Adelaide and Aissa love their yard.
It has been raining for 9 days and we finally got a break in the rain, for at least the morning.  The girls and I took an opportunity to enjoy the back yard a bit.  Aissa May was thirsty, so she figured the bird bath would work just fine.  Monkey see, monkey do, Adelaide had to check it out too.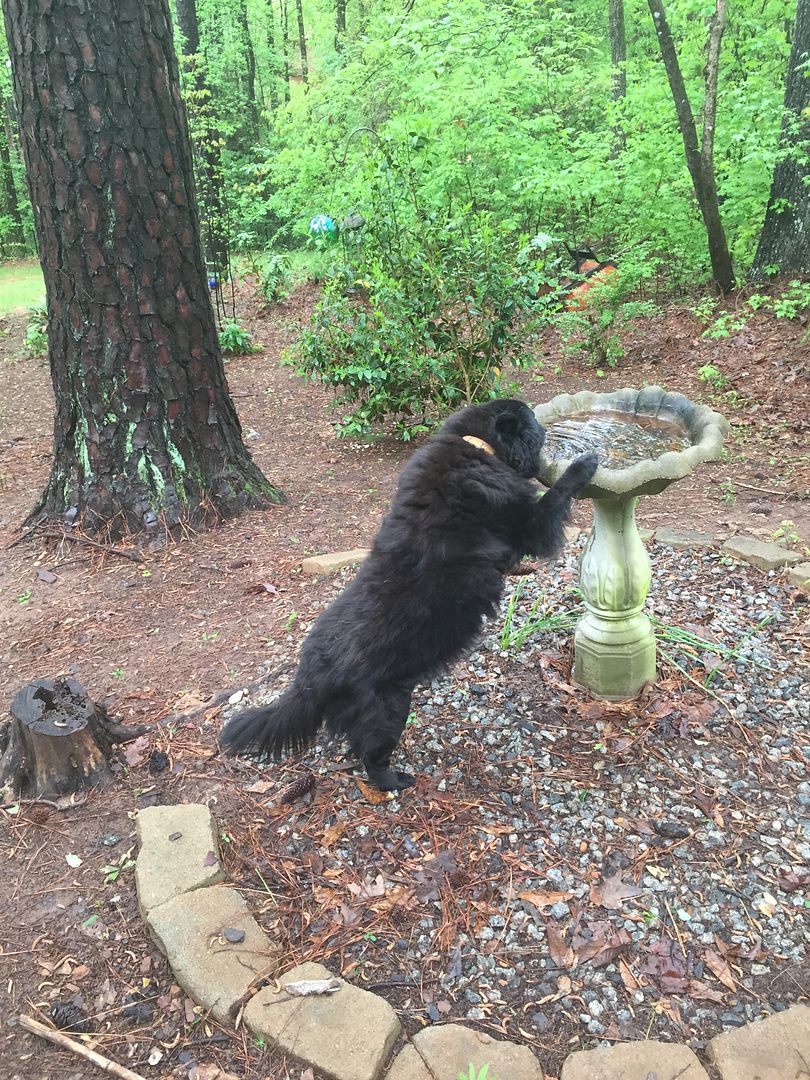 Our Leatherleaf Mahonia's are doing great this year.  They have really enjoyed all the rain.  And the birds haven't gotten to the berries yet.
And our grove of Carolina Allspice is thriving.  This is a native plant and occasionally it smells so sweet, I can smell it from the back patio which is 50 yards away.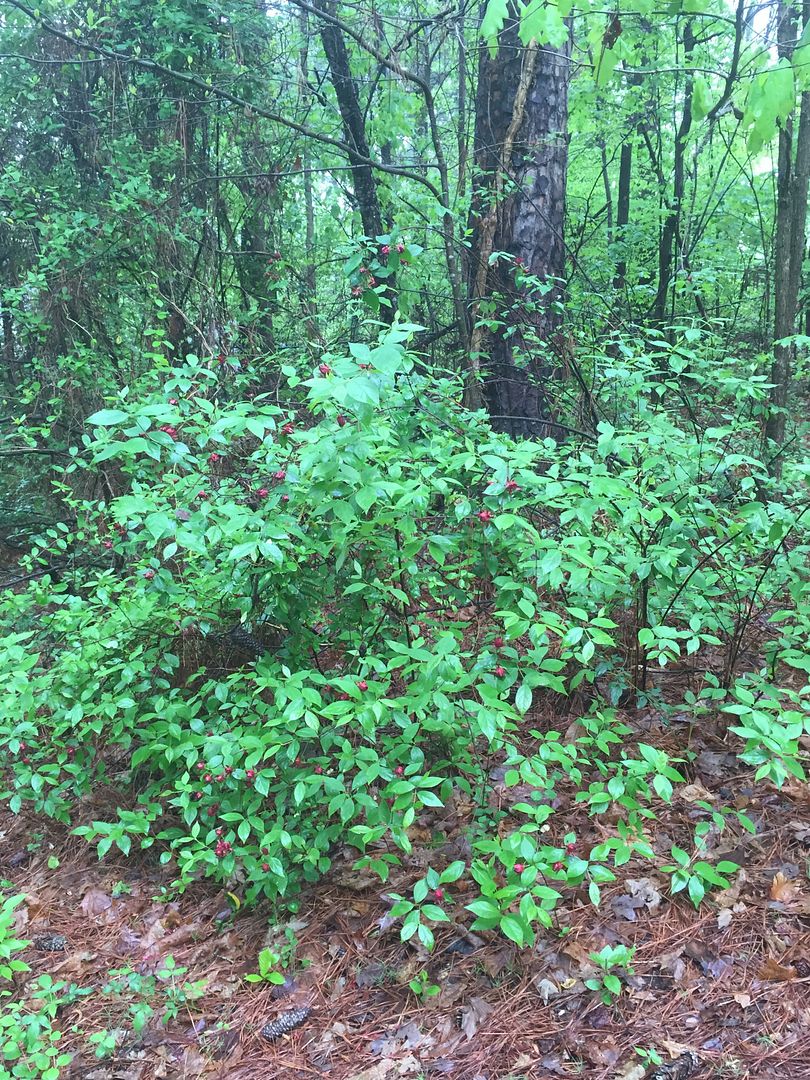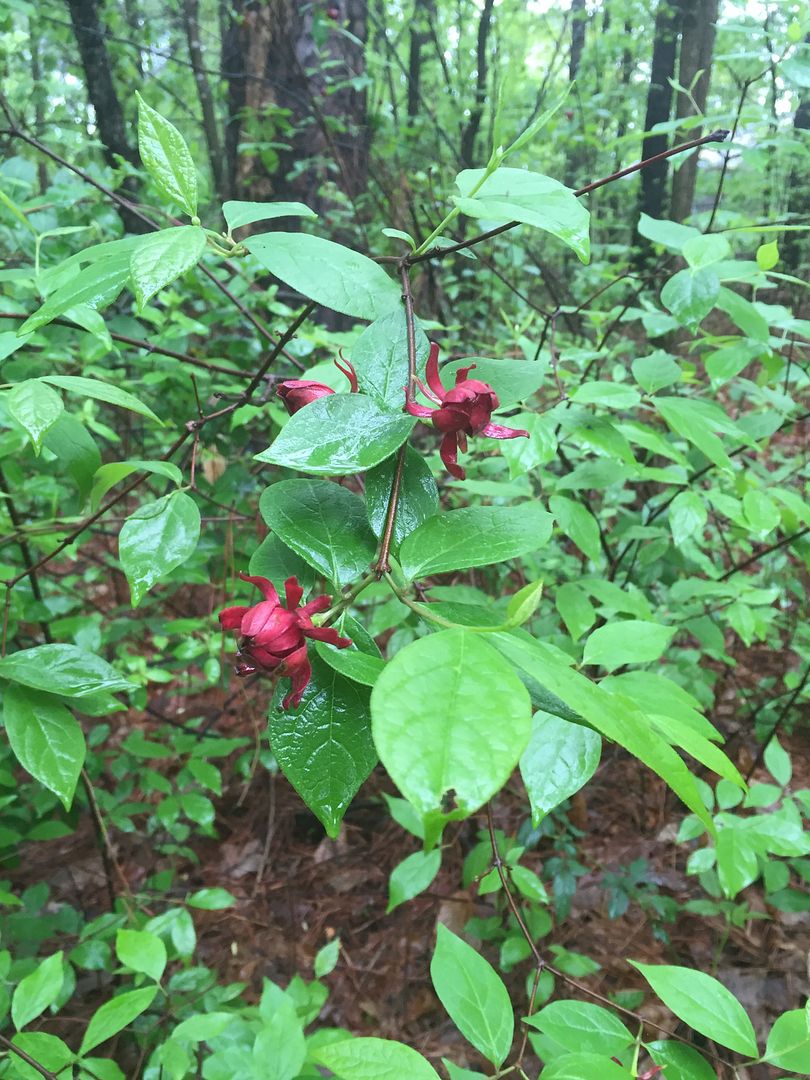 With rain for 9 days straight, the mushrooms are everywhere.  That will do great for when the box turtles come back.  They love to eat the mushrooms.
Last year, our yard guy cut down a few trees… this is the first year in the 12 years this azalea has been in this spot that it has bloomed.  And bloomed it did.  It's a very pretty coral pink.  Even Adelaide was surprised by the new flowers.
With a large wooded yard and a more frugal approach to landscaping, each Spring I just get a few fill in plants and keep adding to what will hopefully someday look like a botanical garden.  This morning's haul…
Once I laid all the plants out, it didn't seem like that much.  These three plants (little yellow guys) I figure will help add some color to the front shrub bed.  I might go back and get two more.  Need to evenly space them out across the width and between the lorepetalums in the back and the nandinas in the front.  Don't mind the decaying retention wall.  That will be fixed this year.
And I am forever working on my hosta bed.  It is really misleading how large these two new ones are.  The ones that are planted already in front of them have leaves that are the size of a large dinner plate.  I saw these huge ones at the nursery and knew they would add a ton to the bed.  I'll also probably make another trip tomorrow to pick up a few more smaller varieties to keep filling in.  By the way, that large plant behind them is my 12 foot Oakleaf Hydrangea.  I love that plant.  It blooms large 8″-12″ cream blooms.  And with it so tall, I get to fully enjoy the blooms sitting on the patio that is 4 feet above the ground.
For some new added spark, I saw these white Astilbes that once planted along the wooded edge over here, will add a pop of color.
Another favorite in the yard are these Cast Iron plants.  We have a whole bed of them on the other side of the walkway, so I picked up a couple more to fill in some space between the Leatherleaf Mahonias and Acubas.  Adds some variety to the foliage patterns since the Cast Iron plants are so upright.
That pretty little azalea that is finally blooming?  We decided it needed some friends.  I picked up two lighter pink azaleas to plant near it.
Addy and Aissa never use the dog house.  They are so spoiled that they are never stuck outside.  But this is what the yard looks like behind the house as we walk up the walkway towards the patio.
And then, lastly, I love peonies.  I am not sure it will grow well in my yard, but I saw some at the nursery and grabbed one little one to test it out.  Just need to find the perfect spot for it.
Hope you all enjoyed our little tour of Adelaide's playground.