03.25.13
Miss Addy was adopted into my home on Tuesday, March 19th.  She was welcomed by her new sisters, Brendol (who is a recent tripawd due to OSA), Aissa, Mathilde, and Morrigan (for more information on the rest of the pack, you can visit Brendol's blog at http://brendol.tripawds.com).
 Addy, formerly known as Murphy, had a bad fall and break to her front left leg when she was young.  Her owners at the time did not have the resources to get her leg fixed.  As she grew, the leg started to bend due to the growth plates had been impacted severely.  In the following picture, you can sort of see the direction her leg was taking. 
 Fortunately for Miss Adelaide, a nice couple heard about her and decided to take her in from her previous owners.  Adelaide is retaining her first name, Murphy, as her middle name in their honor.  They had friends that got together and raised money to help Addy get her leg amputated.  They did look into getting the leg just fixed.  However, the surgeries that were going to be required were very extensive and were not considered a very good option because they had a low success rate estimated. 
On October 1, 2012, Adelaide underwent surgery and the leg was removed.  The couple that was taking care of her, Tiffany and Blake, did a great job with her during her recovery.  They really loved Adelaide and were considering keeping her as a part of their family.  However, their older dog, Heidi, was just not adapting to having a young spirited girl in the house.  So, fortunately for me, they posted on the tripawds forums that they were looking for a home for this sweet girl.  Right now, Miss Adelaide is somewhere around 1 year old.  I am thinking of adopting 4/15 as her birthday, so that I can remember it going forward because my memory is really terrible.  She is sweet tempered and very playful. 
Her new sisters, Brendol and Aissa, and I met up with her and her previous pawrents on Sunday March 17th in a dogpark in Dunwoody.  She immediately had a blast at the park.  There was not another dog nor person that was not going to be her friend.  Brendol and Aissa thought that she was pretty ok too.  My only hesitation was how due to the changes bringing a young one into the house would mean, and how were the other two sisters (cats) going to handle this change.  But on Tuesday night, the 19th, I went and picked her up and brought her home.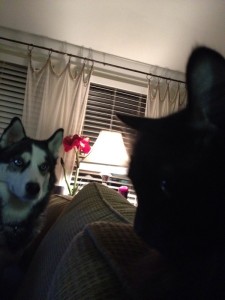 It has been almost a week now, and she has settled in really well.  She is VERY INTRIGUED by the cats.  She doesn't show them aggression, but she has to know what they are up to at all times.  I am keeping a close eye on how this progresses.  Here is a picture of here keeping an eye on Morrigan…
 And lastly, here is a picture from her first night in her new home.  That tongue is often hanging out the side of her mouth, just showing what a goofball she is.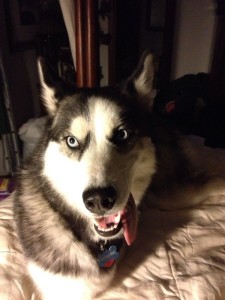 She is all puppy, so I am sure there will be many stories to come.  Right now, I am trying to find a day care for her to go play once or twice a week so that she can spend some good time with younger pups.  Her sisters aren't completely up to running around as much as she would like.
More later…