09.18.13
Why is there never a camera when you need one?  Or, if one is near, you can't get to it without disturbing the subject or quick enough to capture the moment.
I have been trying to get a video of Adelaide doing a few things and I just can't seem to catch her.  So I am going to describe what I have been unable to capture.  I'd say close your eyes and visualize what I describe below, but then you couldn't read it. 😀
1)  Adelaide and Mathilde.   Adelaide's relationship with the cats is a one-sided deal.  Morrigan wants nothing to do with Addy and makes a rush to her cat perch, or under the bed, or to her cat bowl.  Mathilde, on the other hand, will go about what she wants to do, but do so while being watchful of where Adelaide is at and what mood she is in.  Because when Adelaide is in play mode (which is still most of the day), she constantly wants to mess with the cats.  What I've been trying to catch is how she goes up to Mathilde and licks her and nudges her and at times puts Mathilde's entire head in her mouth.  (Yes, the whole head and Mathilde lets her).  It is all done playfully and gently.  Mathilde is NOT thrilled with any of this, but she sits or lays there patiently waiting for Adelaide to lose interest.  Can't seem to catch this on video.
2) Adelaide talking to Aissa while they play.  She has some sort of sixth sense.  When her and Aissa are playing tug-a-war or wrestling, Addy does her "husky" chatter.  It's nearly the only time she talks instead of barks.  I've even hid down in the couch with just the phone up where it can capture video and as soon as that phone goes up, she stops.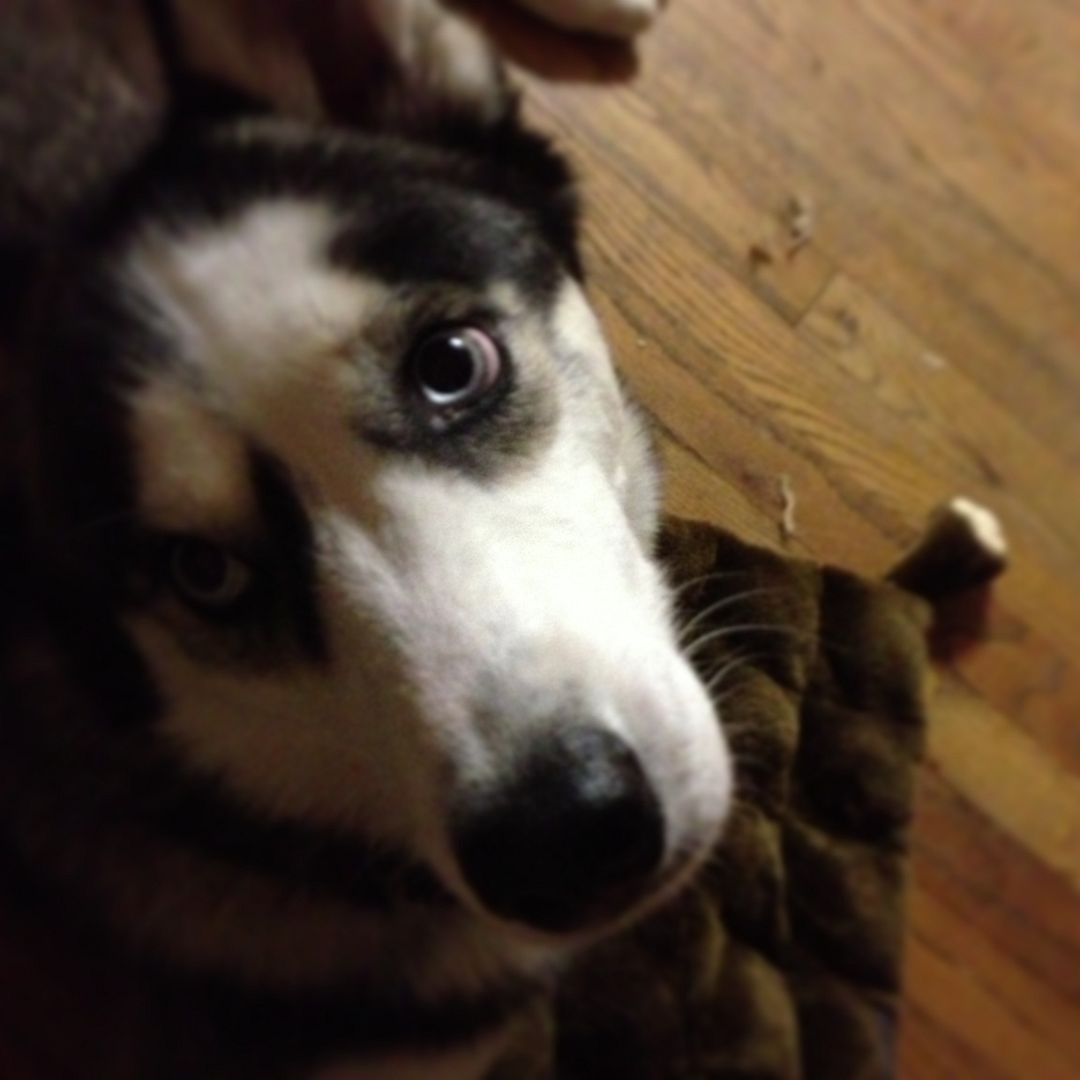 3)  Addy also likes to stand behind me in the car and put her head over my shoulder  and rest her head down on the front of it.  It is super sweet.  She sits there for a minute getting some cuddles and then goes back to her position in the back seat.  Of course I can't get this on video, I'm in the car.  And when the girls are in the car with me, I am on full alert to the traffic and what's going on as a driver.  But it would be cute to be able to share this moment.
4) Tonight, Adelaide wanted, for some reason, to fit her entire body on top of a pillow and lay down.  She tried many ways.  Stand on the pillow with her front leg, but then the back don't fit.  Try to get her back legs on, but then her front leg had to bounce off the pillow to gain her balance.  Turn around clockwise to see if that angle would work better.  Plum plop down and try to squish up on it. But nothing would work.  It was very funny watching her and her wheels spinning on how to accomplish her goal.  She eventually gave up and spun around beside the pillow and plopped down very hard, rested her head down on the couch in a big pout and let out a big sigh.  Defeated.  She is now pouting as I write.  Again, just as she was finishing this attempt, it dawned on me I should be recording her, but alas, too late.
Hope everpawdy else has better luck capturing those funny and/or sweet moments.